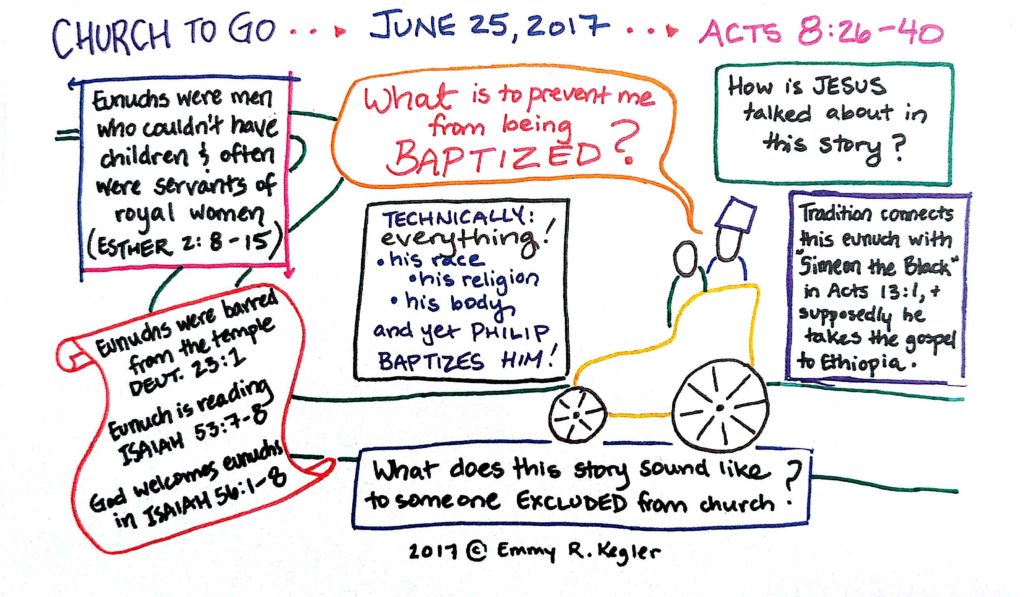 Reading for June 25, 2017: Acts 8:26-40, the baptism of the Ethiopian eunuch
Commentary:
– Eunuchs were men who couldn't have children and often were servants of royal women (Esther 2:8-15)
– Eunuchs were barred from the temple (Deuteronomy 23:1)
– The eunuch in this story is reading Isaiah 53:7-8
– God proclaims a welcome for eunuchs through the prophet Isaiah (Isaiah 56:1-8)
– The eunuch asks, "What is to prevent me from being baptized?" Technically: everything! His race, his religion, his body. And yet Philip baptizes him!
– How is Jesus talked about in this story?
– Tradition connects this eunuch with "Simeon the Black" in Acts 13:1, and supposedly he takes the gospel to Ethiopia.
– What does this story sound like to someone excluded from church?
Audio of "improv sermon" based on questions and thoughts submitted by the congregation!