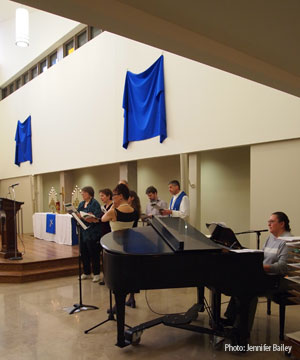 Singing together is an important part of our worship life. We sing primarily from the Evangelical Lutheran Worship hymnal but are also always adding new hymns and liturgies.
Most of the accompaniment during our worship service is from the piano. We've also had guitar, flute, conga drums, violin, banjo and other instruments to accompany our song.
We have a small choir that lend their talents to most of the Sunday services between Labor Day and Memorial Day. Choir practice is held Tuesday evenings at 7pm. We always have room for new members to join!
In addition, several members of the congregation have formed a band that play periodically. If you're interested in joining the band or choir, please feel free to contact our worship and music director Jon Pumper at music@gracenempls.org.