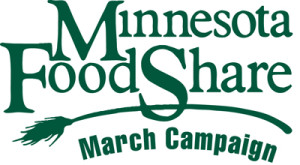 Our participation in the annual Minnesota FoodShare March Campaign has begun! This statewide campaign helps us raise funds for our Little Kitchen FoodShelf by offering a percentage-match based on the pounds of food and monetary donations we collect during the month. This campaign is an important part of the food shelf's annual operating budget and we depended on YOU to make it a success!
Here are ways YOU can support this campaign:
Shop at the Eastside Food Co-op: Shop at our local Co-op (on 25th and Central Ave. NE) during the month of March, and round up at the register! Every year the Co-op collects up to $5,000 in round-up funds that it gives to Little Kitchen. That buys us five weeks worth of food-bank supplies!
Make a Donation: We always need food (click here for a list) and hygiene donations. Call the church office to arrange for the best time to drop off items. Or, make a cash donation. For every $1 you donate, we can buy up to $10 worth of food from our food banks! You can make an online contribution on the church website by clicking here or send in a check. Mail your check to Little Kitchen, 1500 6th St NE, Minneapolis, MN 55413, or drop off your check (write LKF in the memo line) in the offering plate at the Sunday Morning Worship service.