If you've been around Grace Center lately you've noticed a lot of construction activity!
Our doors have long been labeled with numbers (Door #3 for the food shelf and Door #2 for the church office — or is it the other way around?). In addition, whenever the sun shone brightly on Door #2 in the early morning (coincidentally when the office opened or about an hour before Sunday worship starts) the paint swelled and got sticky, making the unlocked door still difficult or even impossible to open.
This past fiscal year Grace Center budgeted funds to install door canopies, which will solve a number of problems! Now instead of giving a door number, we can give a door color, which is easier for visitors to remember. The canopy on Door #2 also means the sun isn't glaring down on it. And it makes the whole building look updated and more colorful!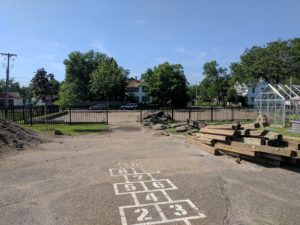 And an even bigger change — our playground is gone! The existing playground was carefully removed earlier this month by Bauer Bros (North Minneapolis salvage company), with assistance from Hutterite members (similar to Mennonites) from southern MN.  The playground will be reassembled (and repaired, as needed) by the Hutterites in their community in Gibbon, Minnesota.
But have no fear. Grace Center received $60,000 from the Northeast Lions Club last year, and since then Lorrie Stromme has been doing amazing work gathering grants and other available funds. She has raised $145,000 so that, at no rent or operating cost increases, we will have a brand-new inclusive playground by the end of August!  They are still working to raise the final $15,000.
The new playground is called "Fair Play," because it features equipment that welcomes kids with special needs and all abilities to play together, side by side. There will be ramps for wheel-chair access, swings with support, sensory play equipment, softer surfaces, and stimulating learning areas. (There is no accessible playground for kids with sensory or physical disabilities on our side of the city.) It will provide smiles, fun, and fitness for families in the community, as well as students in the schools at Grace Center. Fair Play will be an asset for the Northeast community as a whole, but especially for those with special needs.
The new playground is scheduled to be installed on August 12 and 13 by volunteers, under the supervision of a professional playground installer.  Church members, local residents, neighborhood groups – all willing adults — are invited to help out.
The tasks on Saturday, August 12, involve digging some footings, setting up the main playground structure (with ramps for wheelchairs), the rotating pyramid, swings, edging, and the sandbox. We are hoping to have 40 to 50 volunteers helping out between 8 a.m. and 5 p.m.  We are recruiting a core group of 10-15 who will be able to stay all day.  Please bring work gloves.
The tasks on Sunday, August 13, involve continuing to install the play equipment, spread pea gravel, and install the "discover cave" structure after the pea gravel is in place.  We are seeking 30 adult volunteers that day, between 8 a.m. and 5 p.m.  Please bring work gloves.
Volunteers will receive a t-shirt, water, snacks/a meal.  Rest rooms and shade/AC are inside the building.
On August 26 and 27, we will need volunteers again to help spread the engineered wood fiber in the places where there is no poured-in-place rubberized surfacing. We would welcome 30 volunteers, and we are hoping that some will bring wheelbarrows and shovels.
Volunteers can sign up on the Grace Center Web site (http://gracectr.org — under the Fair Play Project tab) — or call or text Heidi Zaworski, 612-408-0242.
Donations are also welcome online (by credit card or PayPal) to support the final stages of Fair Play!