All are welcome! Bring your family, friends, and guests to celebrate the birth of Jesus.
Intergenerational Advent Wreath Making
Sunday, December 2, after worship, 11:15 AM-noon
Kids and adults gather together to make Advent wreaths — a traditional way of counting down to Christmas.
Christmas Program
Sunday, December 16, 10 AM
Our Sunday School children will continue the beloved tradition of retelling the story of Jesus' birth with singing and a lively sketch during the 10 AM Worship Service.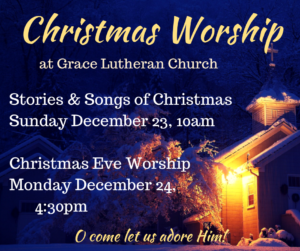 Stories & Songs of Christmas
Sunday, December 23, 10 AM
Start your Christmas week with us as we sing and read through the classic stories and hymns of Christmas!
Christmas Eve Candlelight Service (with Communion)
Monday, December 24, 4:30 PM
We gather together to hear the story of Christ's birth.