What is Advent?
The church's celebration of Advent counts down the four Sundays before Christmas. "Advent" comes from a Latin word meaning "arrival" — the arrival of Christ. We know many different ways of getting ready for Christmas: picking out a tree, decorating the house, buying and wrapping gifts, making travel plans to see family. But Advent asks us to "get ready" for Christmas in another way: to prepare ourselves for the arrival of Jesus. Are we ready to receive a God who puts on flesh, who sees our suffering and becomes one with us, who trusts the divine into the care of a teenage girl and her fiancé, whose arrival in our world was not recognized by the supremely religious or the politically powerful but by humble shepherds out in dirty fields and pagan astrologers who followed a star?
The most honest answer to this question should probably be no. We are never perfectly "ready" to receive the mystery of God born among us. Yet every year we celebrate it again and again. We remember that Christ comes to us in many ways: in the flesh in Bethlehem over two thousand years ago; every day in our hearts, comforting and transforming us; in the needy and poor around us; and in Christ's future glory at the end of the age, when all the hate and pain of this world will be overturned and creation will be made new.
Advent is a time when we try (and admit that we can never finish trying!) to be ready for the mystery of the incarnation, the miracle of Immanuel — God-with-us.
What's with the colors?
We know our Christmas colors, of course — red and green. But the church, during Advent, puts on different colors: purple, pink, and blue. Using these colors dates back at least six hundred years! Because Advent was originally thought of as another Lent — a time of waiting and preparation — the purple of Lent was first used to mark Advent as well. Many churches still use purple. Within the past hundred years, blue has also become a common color for Advent. It distinguishes the season from Lent, while still using a royal color to symbolize our waiting and preparation for the coming of a King. Blue also is the color most often associated with Mary the mother of Jesus.
Some churches add pink on the third Sunday of Advent. For church traditions where Advent was a particularly solemn and self-reflective time, the pink colors and candles (sometimes called "rose") were a visible reminder that Christmas was also a joyful time to be celebrated.
What's an Advent wreath for?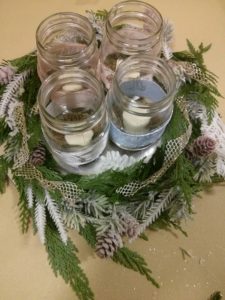 An Advent wreath helps us "count down" to Christmas by lighting a new candle each Sunday of Advent. On the first Sunday, one candle is lit; on the second Sunday of Advent, the first candle is lit and then a second candle is also; and so on. Many churches also have a candle in the center of the wreath, to be lit on Christmas Day.
At our Advent wreath-making event, we invite everyone and every family to work together to make their own wreath to take home. Some choose to light their Advent wreath for a few minutes over breakfast or dinner, or at some other time during the day when there is time to pause, think, and pray.