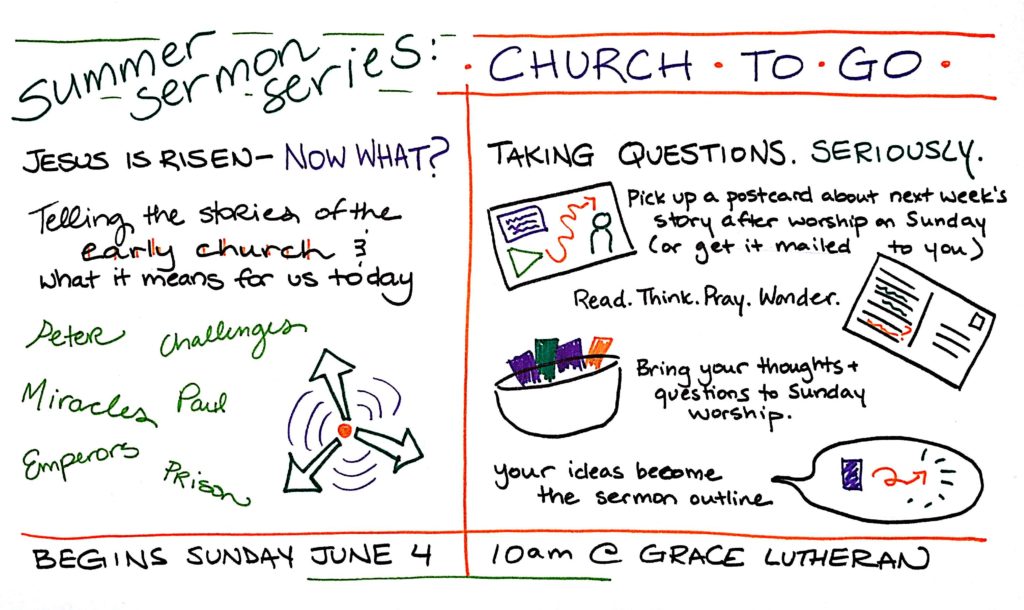 The story didn't end after Jesus rose from the dead– in fact, it was just beginning. The book of the Acts of the Apostles and the letters of Paul and his peers help us remember what was happening during that time. The new "Christian church" had to figure out who they were and what they were all about. Who could belong to this group? Who was leading them? What was their relationship to the local religious leaders and synagogues — and to the Roman Empire? AND: what do all those questions and stories mean for us today?
In Church To Go we'll be trying out something new. After worship on Sunday, you'll receive a postcard with an illustration of *next* Sunday's reading — along with additional Scripture readings, historical notes, prayers, questions, and plenty of space on the back to write down thoughts and wonderings. (If you don't make it to worship, we can mail the postcard to you!) You can take whatever time during the week to think through the coming reading and take note of *your* questions about it. Then on that Sunday, your questions and thoughts go into a basket — and that basket becomes the outline to the sermon.
Bring yourself. Bring your friends. Bring your questions. Together we'll figure out what to do with a church that is on the move!
Postcards & Sermons (posted new each week)
– June 11, 2017: Peter and John heal a paralyzed beggar
– June 18, 2017: Stephen chosen to serve the Greek widows — and condemned by the Jewish council
– June 25, 2017: An Ethiopian eunuch baptized by the apostle Philip
– July 9, 2017: Cornelius' prayers and Peter's vision
– July 16, 2017: An auspicious start to Paul's ministry
– July 23, 2017: Paul saves a sleepy kid & heads for Jerusalem
– July 30, 2017: Paul explains what to expect with Jesus' return
– August 6, 2017: Paul explains the Spirit, the body of Christ, and love
– August 13, 2017: Paul reacts with astonishment and anger at the perversion of the gospel
– August 20, 2017: Paul uses song to reinforce the paradox of Jesus