Staff

Emmy Kegler – Pastor
Pastor Emmy has been at Grace since 2016 and is happy to have found such an incredible place to serve as pastor. From preaching to leading outreach events to grabbing a beer with someone new to hear their story, she truly loves her work here. She and her wife Michelle live in Minneapolis and have two perfect dogs. You can contact her here.
---
Jon Pumper – Worship and Music Director
Jon joined us in 2019 after recently moving to Northeast and previously serving for three years as Music Director for Lake Auburn Moravian Church in Victoria, MN. We are excited to have his musical technique, improvisation skills, and engaging personality on board!
---
Lynn Mena – Congregational Administrator & Food Shelf Administrator
---
Erica Bryerwell – Pastoral Intern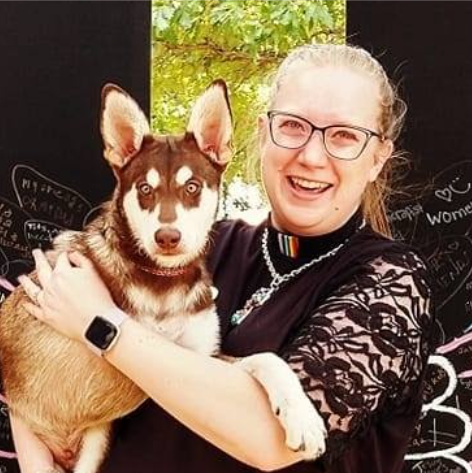 Erica came to Grace as an intern in June of 2021 as a part of Luther Seminary's MDivX program. She first was introduced to Grace in 2017 through Queer Grace Community and is excited to be learning and journeying with Grace Lutheran during her two year internship. Erica lives in St. Louis Park with her spouse, Teddy and the joyful chaos of their cat (Pasht) and puppy (Reilly).
---
2022 Grace Lutheran Church Council
President, Sandy Kortebein
Vice President, Sue Traxler
Secretary, William Schar
Treasurer, Kathy Hubbard
Bryan Boyce
Erik Nelson
Sarah Heyer
Pastor Emmy Kegler
---
Grace Center
Director, Lorrie Stromme
Building Engineer, Bob Dierke